2017 Food & Nutrition Conference & Expo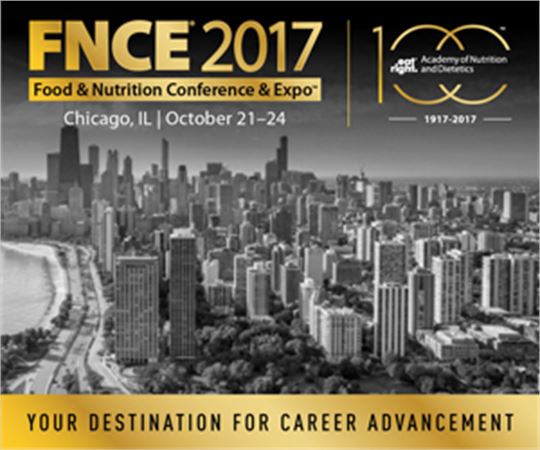 Join us at these ON DPG Events:
ON DPG Spotlight Session: The Evidence: Intermittent Fasting Effects on Cardiometabolic Disease and Cancer by Dorothy Sears, PhD Mahshid Shelehchi, MS, RD
Date: 10/22/17
Time: 1:30 PM-3:00 PM
Location: McCormick Place West - Room 375 B
RDNs have long been advising clients to eat small frequent meals for optimal health. However, according to recent evidence regarding intermittent fasting, RDNs should consider possible health benefits of modifying their message to clients. Intermittent fasting, the periodic abstinence of food, may be effective for preventing and treating many diseases. This session will present evidence supporting the benefits of intermittent fasting related to obesity, obesity-related conditions and chronic diseases, including cancer and diabetes. Further, this session will examine the proposed mechanisms of action and feasibility and practicality of implementing intermittent fasting in different patient populations.
ON DPG Member Reception-Celebrating 25 Years of ON DPG!
Date: 10/22/17
Time: 6:00 PM-8:00 PM
Location: Hyatt Regency Chicago; Columbus AB
Come celebrate 25 Years of ON DPG! Award presentation, networking and highlights of events of the past 25 years! Cash Bar and Appetizers.
Cosponsored by ON DPG Session: Cancer Survivorship Lifestyle Guidelines: Time For Action by Jennifer Ligibel MD and Wendy Demark-Wahnefried PhD, RD
Date: 10/23/17
Time: 8:00 AM-9:30 AM
Location: McCormick Place West - Room185 ABCD
There has been significant effort on the part of practitioners and researchers to advance the care of cancer survivors through evidence-based guidance. Several new reports and initiatives have been developed to coalesce the current evidence and develop specific care-based recommendations for health care practitioners, including dietetics professionals. This session will review the evidence supporting three such documents including the American Society for Clinical Oncology position statement on Obesity and Cancer (2014), the National Comprehensive Cancer Network Survivorship guidelines (2017) and the American Cancer Society Guidelines for Nutrition and Physical Activity (2017 update). Attendees will be provided specific ideas for applying these guidelines in their practice settings to support evidence-based practice and dissemination of standardized practice models. Leaders in the field who served as authors on these documents will deliver this timely information.
Member Showcase
Date: 10/23/17
Time: 9:00 AM-12:00 PM
Location: McCormick Place – Registration C area outside Exhibit Hall F2
FNCE Events with our Members
The Changing Face of Pediatric Oncology Assessment, Intervention And Collaboration by Elaine Trujillo, RD, Jennifer Cohen PhD, MND, BSc, APD, Terezie Mosby EdD, MS, RD, FAND, LDN
Date: 10/22/17
Time: 3:30 PM 5:00 PM
Location: McCormick Place West - RoomW192 ABCD
Childhood cancer affects over 15,000 children each year in the United States, and it is the number one cause of death by disease in children living in high income countries. Pediatric oncology is a field where the clinical dietitian is an essential part of the multidisciplinary team. In this session we will address the nuances, supported by current research, of patient nutrition assessment and discuss the changing scope of nutritional intervention and education, accounting for the late effects of therapy on the nutritional status of survivors. We will also present a developmental decision aid to improve nutrition support decisions. We will discuss the global burden of pediatric oncology and it's future projections; assessment and intervention problems in low income countries and recommendations on how to address those problems; and possible international collaboration.