More Great Nutrition Resources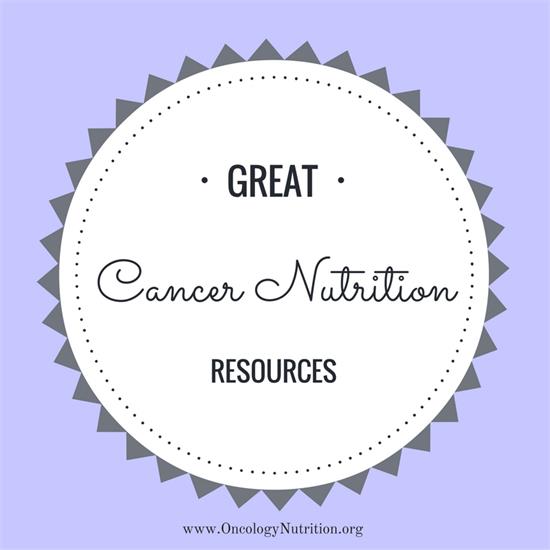 ACOR offers access to mailing lists that provide support, information, and community to everyone affected by cancer and related disorders.
Provides information on all aspects of cancer through a toll-free information line, web site, and published materials. The American Cancer Society's web site is an important extension of the Society's mission to provide lifesaving information to the public. The user-friendly site includes an interactive cancer resource center containing in-depth information on every major cancer type.
AICR offers a variety of services, from a Nutrition Hotline to healthy recipes to a special children's newsletter, all to help you eat and live more healthfully.
Cancer.Net provides timely, comprehensive, oncologist-approved information from the American Society of Clinical Oncology (ASCO), with support from the Conquer Cancer Foundation. Cancer.Net brings the expertise and resources of ASCO to people living with cancer and those who care for and about them to help patients and families make informed health care decisions.
Julie Lanford, MPH, RD, CSO, LDN offers lifestyle tips for prevention and survivorship. Keeping you well beyond cancer!
At Cook For Your Life it's our mission to teach healthy cooking to people touched by cancer. We turn nutrition guidelines into practical, easy recipes that are designed specifically for the different stages of treatment, and to promote healthy survivorship. Cook for Your Life is not about food as medicine, nor food to cure, it is about the simple, good food that nourishes and comforts us during treatment.
Cure magazine stands for Cancer Updates, Research and Education. Good educational magazine and can get back issues online.
The ELLICSR Kitchen program is designed to support people touched by cancer by giving you the skills and information you need to manage your diet.
This website provides links to current, trustworthy health care information. Links are complied by the National Library of Medicine at the National Institutes of Health (NIH). Topics include health and nutrition, drug information and directories of doctors and hospitals.
NCI is the Federal Government's principal agency for cancer research and training. The NCI website provides information on cancer statistics, clinical trials, research programs and general cancer information
A reputable resource for those considering using alternative therapies.
Resources listed are non-profit entities with appropriate oversight for medical content (oncology RDN or other oncology specialized healthcare provider). ON DPG does not accept solicited requests to become a resource.
The Oncology Nutrition Dietetic Practice Group and Academy of Nutrition and Dietetics does not endorse the content, products, or services on other Websites.
Page Updated: December 2017